Blue Line: This product stands for highly customizable ventilation and full air conditioning units with the highest energy efficiency in the well-known high HANSA quality. These units are configured according to customer requirements within the limits possible under applicable standards and directives and optimized for the specific application. Measurement, switching and control technology, DDC programming, integrated refrigeration systems: With us, you get everything from a single source and optimally adapted to your ventilation concept. Units for outdoor and indoor installation, central roof units, units with special section division for retrofitting and upgrading existing systems: No problem with Blue Line units. Select the basic concept suitable for your application from our portfolio: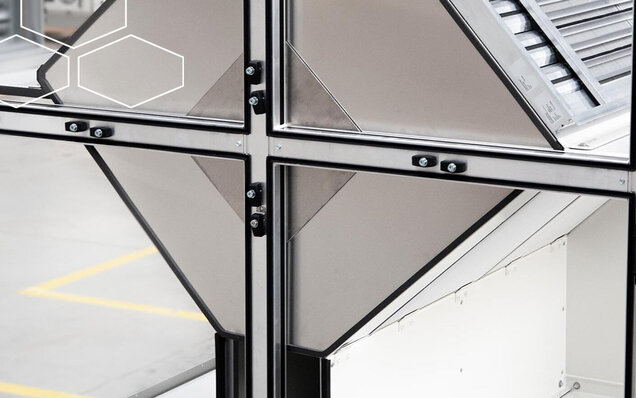 The possibility of heat recovery with plate exchangers as recuperators is implemented in our unit series Blue Line PT (PT=plate exchanger), Blue Line DPT (DPT=double plate exchanger) and Blue Line GS (GS=counterflow heat exchanger).

As static systems, these recuperators are mechanically unproblematic under design conditions.

In addition, they usually provide adequate separation of the air streams.

Depending on the requirements, we install plate heat exchangers with increased corrosion protection or hydrophilic coatings for special applications.

Plate exchangers made of moisture-permeable materials are available as regenerators.
Blue Line DPT in winter operation
In our Blue Line eco-R unit series, rotors are used as central energy recovery units.

They find their optimal field of application where high air performance is required and the exhaust air falls into the categories ETA 1 to ETA 3 (see DIN EN 13779).

Your advantages when choosing our Blue Line eco-R system:
High efficiency
Heat and cold recovery
moisture recovery in winter
stepless controllability
low pressure loss
tested according to VDI 6022 and DIN 1886
The Accubloc is one of the systems with the highest recovery efficiencies and forms the central recovery unit in our Blue Line Accu unit series.

Outside air and exhaust air are alternately routed through side-by-side storage masses, providing both highly efficient heat and moisture recovery.

Your advantages when using a Blue Line Accu:
Up to 95 % heat recovery
up to 75 % rehumidification
no freezing
no condensate drain required
Blue Line Accu units are also individually configured and designed according to the air conditioning task to be performed.
HANSA's Blue Line ASB+ indirect evaporative cooling system on the exhaust air side has been a successful model since its introduction: its investment and operating costs are very low compared to mechanical cooling and it allows cooling of the outside air of up to more than 12 Kelvin (see following figure).

The HANSA-ASB+ system uses rigidly mounted nozzle assemblies that allow for area-wide and uniform humidification on the exhaust air side of the double plate exchanger used. Combined with increased corrosion protection of the exposed components, this makes the system durable and low-maintenance.

If separate ventilation units are implemented for supply and exhaust air, or if the air lines have to be separated, heat recovery can take place via the closed-loop system (KVS). The heat transfer medium is a brine, which absorbs and releases heat energy via air-brine registers.

Due to its principle, the KVS is robust against any pressure differences between the air lines and offers a perfect separation of exhaust and supply air. Thus, Blue Line KVS units are mandatory to be used for exhaust air of category ETA-4.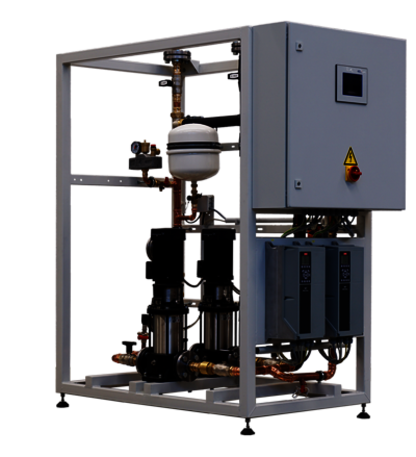 Germ-free and clean air is an essential component for hygienic rooms. With our Blue Line Hy air handling units, the air can be treated according to the respective requirements.

Special filtering processes such as biostatic filters or UV sterilization of the air can be used to achieve the desired conditions. Thanks to the variable use of secondary units, different hygienic zones can be air-conditioned with only one central air-conditioning unit.

Our decades of experience and the use of sophisticated technologies enable us to adapt each unit precisely to the specific application.

By using energy-saving fans and due to the low noise level, HANSA hygiene units offer a coherent overall concept.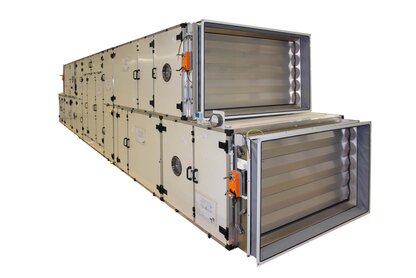 DIN 1946-4 (12/2008)
VDI 6022, sheet 1 (04/2006)
VDI 3803 (02/2010)
DIN EN 13779 (09/2007)
SWKI VA104-01 (04/2006)
SWKI 99-3 (03/2004)
OEN STANDARD H 6021 (09/2003)
OEN STANDARD H 6020 (02/2007)
All our Blue Line units are individually configured and designed according to the air conditioning task to be fulfilled. Thanks to our modular HKG design, the unit series can be individually expanded with the necessary components: Integrated mechanical refrigeration or heat pump (also reversible), cold or hot water coil, humidification and dehumidification, sterilization, etc.